NCIM champions a transformation to healthcare that is integrative, taking a whole-person approach to put patients back in charge of their health and to feel more informed about their care.
We offer a variety of holistic services and wellbeing courses, run by our clinical services team, which includes our Integrative Medicine Doctors, our Integrative Pharmacist, Medical Homeopathy, Nutrition for Wellbeing, Mindfulness for Wellbeing.
Clinic Announcement: New Consultation Fees from 1 September 2022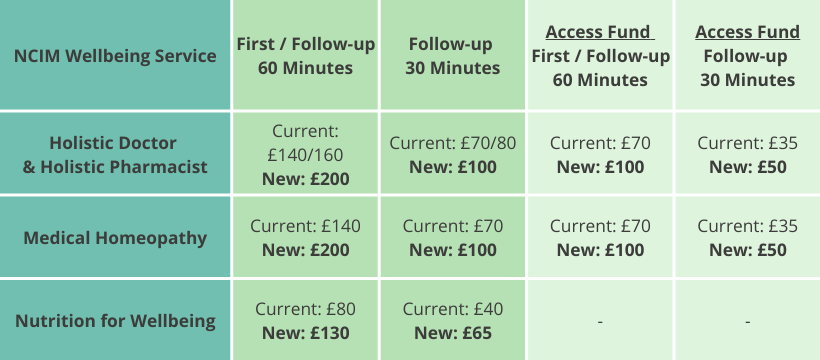 On 1 September we will be introducing new consultation fees for Holistic Doctor, Holistic Pharmacist, Medical Homeopathy and Nutrition for Wellbeing.
The new fees apply to new bookings made after 1 August 2022. Any existing appointments that you've been invoiced for will remain at the current rate. 
NCIM is pleased that we can continue to offer appointments below the market rate. The increase in fees will help us to make service improvements and to support more patients who may not otherwise have access to integrative healthcare.
As a social enterprise (NCIM is registered as a Community Interest Company), any surplus we make is used to benefit the wider community.
Integrative Doctor and Pharmacist
The Integrative Doctor and Pharmacist Service, offered uniquely by NCIM, is designed both for patients with long-term or chronic conditions and those who feel that there is something lacking in their healthcare provision.
Making wellbeing a priority, the Integrative Doctor and Pharmacist Service offers patients a fuller and deeper picture of their health, with advice on conventional, lifestyle and holistic approaches to healthcare…

Learn More