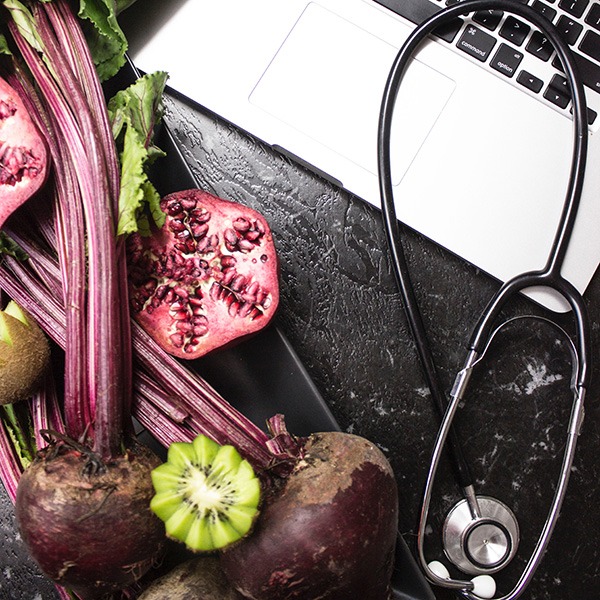 Diploma in
Integrative Healthcare
DELIVERED WITH BLENDED ONLINE AND IN PERSON LEARNING
Invest in your career and broaden your understanding of Integrative Medicine.
Our Diploma graduates are empowered to treat patients in a new, more holistic and collaborative way and become a Fellow of the National Centre for Integrative Medicine.
Who is the Diploma for?
This course is for healthcare professionals (who meet a set of entry requirements) who would like to apply a broader range of integrative approaches such as nutrition, mindfulness and other lifestyle and holistic therapies alongside mainstream healthcare.
The Diploma in Integrative Healthcare will lead students into a sound knowledge of Integrative Medicine and help NCIM to develop and inspire a network of practitioners with a knowledge of practice-based research. 
The course is accredited by Crossfields Institute as a Level 7 Diploma.
Graduates become a Fellow of the National Centre for Integrative Medicine.
Not ready for the full Diploma?
Our Integrative Medicine teaching experts regularly give forums on the importance of combining conventional, lifestyle, and holistic approaches to health – which contribute to your CPD.



Benefits of doing the Diploma
Develop a critical and enquiring approach to a variety of therapeutic interventions.
Develop self-confidence and skills in holistic assessment to help patients towards maintaining health, personal resilience, and self-empowerment.
Build personal and professional resilience to support you through the rigours of healthcare working environments.
Become part of a national and international network of Integrative Medicine practitioners.
What can you expect?
The two-year course combines weekly online tutorials, and intensive  learning in three day blocks every three months.
You will have access to an online Virtual Learning Environment (VLE) and be given regular assignments to deepen your own knowledge through further study.
NCIM has designed the Diploma to provide a supportive learning environment and our Education Team works hard to support your needs during the course.
You will meet and learn from a wide network of Integrative Medicine specialists and build a supportive community of peers within your year group.
Our Diploma Team
The NCIM Education Team delivers this course with a range of interventions from specialists in conventional, lifestyle and holistic healthcare practices.
Dr Elizabeth Thompson
Dr Duncan Still
Alastair Gray
Megan Odell
Dr Sally Moorcroft
Kiriaki Marselou
Dr Nikki Curtis
Candy Jiang and Claire Devas (Academic Administrators)
Where and when is the Diploma course?
The 3-day Intensives will be delivered online via Zoom on the following dates, including the opportunity to meet in person in May:
2022/2023
2

2, 23 (IHF)

 

and 24

September 2022 (online)

16, 17 (IHF) and 18

February 2023 (online)

1

1, 12 and

1

3

 (IHF) May 2023

(in-person and online)
21,

 

2

2 (IHF) and 23

September 2023 (online)

2

2, 23 (IHF) and 24

  

February 2024 (online)

9, 10 (IHF) and

1

1

May 2024

(in-person and online)
Please email education@ncim.org.uk if you have any specific questions about the online delivery of the Diploma.
Prices and application process
The enrolment fee is £250, and the price of the Diploma is £5,000 per year (£10,000 for two years).
NCIM aims to make a few bursaries available to help support students in their learning journey.
Application process for September 2022 start:
Application form (deadline April and July 2022)

Late Applications welcome

Bursary Application form (Weleda) – deadline April and July 2022

Informal interview with a member of NCIM's Education Team (June-August 2022)
For more information about the Diploma and to register your interest, please contact our Academic Administrator:
Introducing the Diploma in Integrative Healthcare
Dr Elizabeth Thompson, CEO and Academic Director introduces the two year Diploma.
How the Diploma in Integrative Healthcare can transform your clinical practice
Dr Elizabeth Thompson, CEO and Academic Director talks here about the Diploma and why it offers an excellent programme of education for healthcare professionals who want to connect to a broader vision of healthcare.
Diploma Content and structure: learn more and meet the tutor team
In this 20 minute excerpt taken from our online Open Evening (May 2022) you can learn more about the content and structure of the Diploma as well as meet the core tutor team.
" For a long time I felt very inadequate in the way I dealt with patients with long term conditions. I felt that whilst conventional medicine is very good for lots of acute medical problems, it was very limited in what it could do or offer to patients with long term conditions. I was looking for ways to bridge that gap and the Diploma in Integrative Medicine seemed to have all those elements."
Dr Chui, IM Diploma learner